Grant Thomson
Partner – CA, BCom (UNSW)
Whilst Grant has experience and expertise in all areas of Accounting and Tax, he is also responsible for our Audit Division and is a registered company auditor and SMSF auditor with ASIC.
Grant commenced employment as an accountant in 1984 with Thomson Douglas & Co (now Grant Thornton) simultaneously beginning a part-time accounting degree at UNSW, he completed the degree in 1990. The ICAA Professional Year program was completed in 1995. Before joining Jacoby Cameron & Co in October 1993, Grant had worked for a number of accounting firms as well as being Group Accountant for Tankstream Brewing Company and financial accountant for Weldons. He became a partner at Jacoby Cameron & Co in July 2001.
Areas of specialisation include audit, assurance, management accounting and strategic planning. Grant is a keen follower of motorsport, a member of the Art Gallery Society and regularly attends the theatre.
Imagine for just one moment that you could relate to your adviser.
Martin has been involved in teaching Taxation and Accounting in The Chartered Accounting Program for over 15 years both face to face and via webinars. His technical skills have allowed him to author exam papers and advise on the technical content of courses. Beyond this, Martin has been facilitating the Public Practice Program for over 5 years showing other Chartered Accountants how to really help meet their clients needs.
A typical new client meeting with Martin involves talking through your goals and what you want to achieve from your business and finances. Martin takes the view that our role is to look after your complete financial needs.
Martin has been advanced to a Fellow member of Chartered Accountants of Australia and NZ. Martin is also a Certified Financial Planner (widely regarded as the premier qualification for Financial Planners in Australia) and an Authorised Representative of Count Financial Limited. Martin became a partner on 1 July 2007. Whilst Martin has experience across such diverse areas as accounting, audit and tax he is also responsible for our financial planning division and enjoys assisting many of the firms self-managed superannuation fund clients. Martin's interests outside of work include swimming, water polo, sail boarding and sport in general.
He is an "Authorised Representative of Count Limited".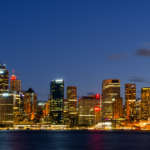 Julie is our Practice Manager
David Morris
Senior Accountant – CA, BCom (WSU)

David commenced employment with Jacoby Cameron in 2004 as an undergraduate and qualified as a chartered accountant in 2008.
David has worked with mostly small to medium size clients in all areas of accounting, tax and audit and is involved in numerous self managed superannuation funds. David works closely with the partners and is a manager to other team members.
Outside of work, David's interests are spending time with his children, playing tennis, rugby league and sport in general.
Dan Huang
Business Services Accountant
Kan (Bill) Zhang
Business Services Accountant

Jonathan Zhu
Business Services Accountant
Jonathan joined Jacoby Cameron & Co in October 2018. He graduated from University of Sydney in 2010 in Master of Professional Accounting and Master of Commerce. Jonathan has worked in various industry sectors including legal, commercial, Not-for-Profit organisation and government. His career in public practice started in 2014 and is now a qualified Certified Practicing Accountant Australia. Jonathan has been involved with all levels of client work directly and working closely with the firm Partners.
Jason is a Senior Financial Adviser with 20 years' experience working with a range of clients with varying needs. During this time, Jason found the most meaningful relationships he had made over the years was when he was working with his more elderly and frail clients.
That is why after relocating to the Mid-North Coast, Jason decided to specialize in providing advice to those that find themselves (or their family member/friend) needing access to Aged Care support.
Aged Care advice is a complex area with a number of options, often needing to be understood quickly during a stressful time.
With many interdependent variables, it can be hard on your own to analyse all your options and decide which ones are most suitable. Jason is an Accredited Aged Care Professional™ and a CERTIFIED FINANCIAL PLANNER®. He can help you to confidently make well-informed choices that will help you access the care you need at a cost you can afford, whilst ensuring you don't miss opportunities This can take away some of the stress for you and your family.
Jason is based in Sapphire Beach (North of Coffs Harbour). He is flexible with meeting you where needed (including Sydney and Brisbane). He can also facilitate video conferencing instead of face-to-face meetings wherever you may be.
He is an "Authorised Representative of Count Limited".
Please contact Jason on 0431 414 799 or jasonb@jaccam.com.au to discuss your aged care needs.